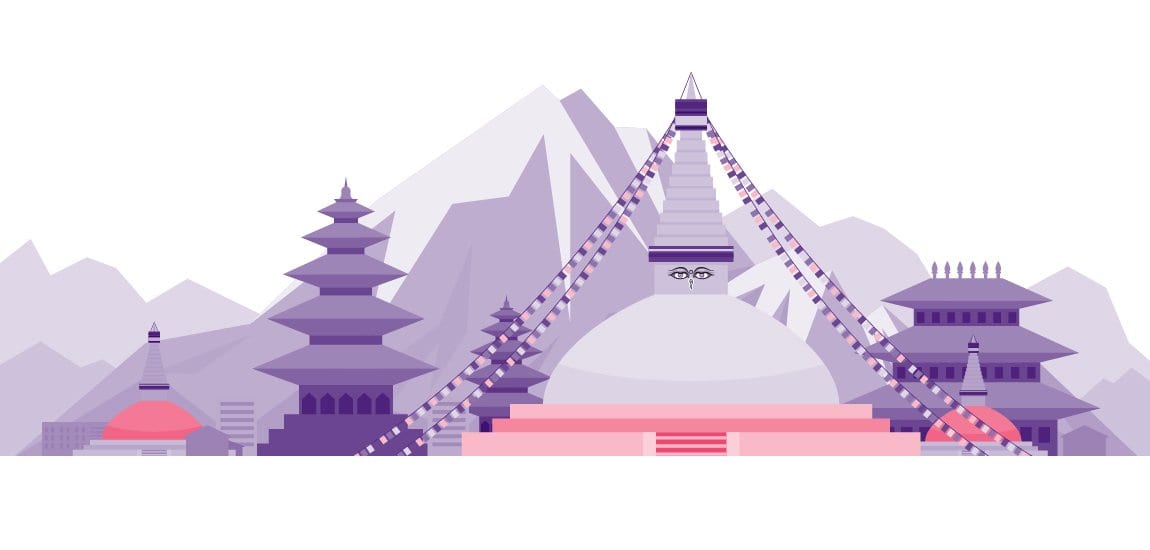 Nepali To English
(Last Updated On: November 12, 2020)
Nepal:
Nepal is a multicultural country in South Asia. It shares its borders with China, Bangladesh, and India. There are 125 distinct ethnic groups in Nepal who follow their own unique cultures. Festivals, folklore, literature, philosophy, and food items are some of the things through which the culture of Nepal is expressed by its people. Although Nepal has a fast-growing economy, the situation in the country is still not ideal for poor people. The country ranks 162nd in the world by GDP per capita. More than 30% of Nepal's population live on a daily wage of $1.91 to $3.3. The 17 million labor force in Nepal is struggling against poverty every day. As a result, many people immigrate to different countries to escape their current situation.
The Nepali Language:
Nepali is an Indo Aryan language which is spoken by 25 million people worldwide. It is the official language of Nepal. It is also one of the scheduled languages of India. It is spoken in various Indian states by a small number of people including Assam, Uttarakhand, and Arunachal Pradesh. It is also spoken by a quarter of Bhutan's population. A few speakers of the Nepali language can also be found in Myanmar. It is written in the Devanagari script. It has been influenced by various other Indo Aryan and Tibeto Burman languages. Nepali has various other names including Khas kura, Gorkhali, and Parbatiya. It is spoken by the Nepali diaspora community all over the world.
English to Nepali Translation for Business:
Nepal's fastest-growing economy and 17 million labor force make it the ideal place for foreign businesses. However, the language barrier can be a problem for businesses. 129 languages are spoken in the country as the mother tongue. Although Nepali is the official language, it is only spoken by 45% of the population. Various other languages are spoken throughout the country. Various ethnic groups speak their own vernacular. Only 0.01% of the Nepali population speaks English. As a result, a business cannot survive in Nepal without English to Nepali translations.
If you need business translations, you should not use an English translation tool. You will need the services of a qualified professional who is not only a native Nepali speaker but also has experience with business translations. Translation software cannot provide you the kind of results that will help you connect with your audience. You don't just need to translate English words into Nepali words. You will need someone to make sure that your documents and advertising content fulfill the linguistic and cultural needs of your target audience.
Nepali to English Translation for USCIS:
Many people apply for US immigration every year. If a person doesn't want their request to get rejected, they should prepare for everything in advance. One important aspect of the immigration process is getting your documents translated. You will need accurate Nepali to English translations of your birth certificate before you can apply for immigration. But the translation for immigration is not simple. You can't turn to a translation software for help. You cannot rely on machine translation because all of us have seen on social media how inaccurate Google Translate can be at times. However, it isn't just about Google Translate. Even if you search for an alternative to Google, it won't be an option that will be a hundred percent perfect.
You will need professional translation services for your immigration documents. You will need Nepali to English certified translations of your documents. Without a certified translation of your birth certificate, your application will get rejected by USCIS. You will have to repeat the whole process again and get high-quality certified translations of your documents.
How to Contact Certified Translators Nepali to Eng?
You don't need certified translators to translate your documents. You will, however, need certified translations of your documents, that can be carried out by any qualified professional. Whether you need the services of a certified translator or an experienced one, you will have to do some research to find one. You can look up different agencies and check their reviews to find out whether or not they deliver quality solutions.
When it comes to the translations of official documents, the aim is not just to express a basic idea of the source file but to explain it fully. You will have to find a professional translation services provider for this purpose. Make sure they have experience in translating documents for immigration. They won't just be translating a sentence into English, it will be a uniquely formatted document. If they have the right experience then they can provide you with accurate results.
Once you have found the agency with the best translators on its team, you can get in touch with them through the customer service representative. You can also call the agency directly and discuss the translation of your documents with them. Whether you need English to Nepali or Nepali to Eng translation, you will be able to get the best quality solutions if you choose the right agency. They will know which variety of English your documents need and assign the right expert to your project.
There's also the free quote option that people can use to get in touch with an agency. You can click the free quote option on an agency's website, upload the document that you need to be translated, and select source and target language. For instance, you will have to let the agency know that you require English to Nepali translations. Once the task is complete, the certified translation will be sent to you.