Certified Translation Swedish to English
(Last Updated On: August 1, 2020)
If money wasn't a problem, no one would give up on traveling ever. There is something about exploring the different regions that keep humans fascinated. In the past, people traveled mostly out of necessity. They needed to trade things and get essential items for their families. But back then, traveling wasn't as luxurious as it is today so it is only justifiable that people traveled only because they had to. As times changed and our means of transportation improved, traveling also became easier and fun. But it also became expensive and therefore became something the poor and middle class couldn't do for fun.
Today, there are those who have to visit different places for work. But there are many people in the world who would give anything to move out of their country for good or at least take a trip to a foreign state for a couple of months. That, unfortunately, is not something easy to achieve. Some people have to save their whole lives for a vacation in a city they always wanted to visit. Some sell everything, they own to move to a different country because their life is in danger in their birth place or there are no opportunities for them to grow and earn a livelihood.
Studies are another reason why someone would want to move to a foreign place. The internet has helped students learn about high ranking foreign universities and as a result, they want to study in a place that is known all around the world. If a student of medicine hears that the best surgery program is in a city of the US, they will definitely want to go there and learn from the best. All of such things make people plan their lives a little differently from those who want to stay in the same place their whole lives. Parents who want to send their kids to an Ivy League school start saving as soon as the child is born. Adults who want to move to a foreign country work multiple jobs so they can save enough to follow their heart. However, there is another aspect of moving to a different country that people need to keep in mind when making their preparations and that is the official rules and regulations, they have to follow to get their visa or immigration application accepted.
Swedish to English Translation:
Sweden is one of the Scandinavian countries in Europe and known around the world for offering its citizens civil liberties, providing them with countless opportunities, and being economically competitive. However, even the Swedes cannot resist the charms of the American soil. Many of them want to work in an American company or study in an institute in the US and for that, they make all the preparations they can.
When a person decides to move from Sweden to the US, they will have to adapt to a different culture. It is better to do some research beforehand so they don't feel lost once they enter the US. Another difference that they have to keep in mind is that of language. Since many Swedes are fluent in English, they will have no problem settling in. But that won't work when their documents are in Swedish. They will have to get them translated before they can be submitted to a government body in the US.
Certified Translation Swedish to English: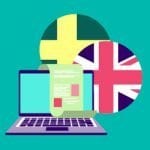 Immigration rules are very strict that often make people confused. Some give up half way simply because they feel overwhelmed. They don't know how to keep up with the rules and regulations set up by immigration offices. But when you have a dream, you should be ready to struggle for it. The language problem isn't something that cannot be fixed. Your Swedish documents will get accepted by a government body, university, or company when they are translated into English.
But it isn't a simple type of translation that you can carry out yourself or get the internet to do it for you. You will need certified translation and a signed statement from the translator as a proof of the accuracy of the document. Once you get this type of translation, no one will question the validity of your document and you will be able to submit it anywhere you want. You can apply for admission in the university of your choice, or send you resume with your personal documents to that company you want to work for. In any case, once you get certified translation of your documents, a lot of doors will open for you.
Another thing to keep in mind when preparing for immigration application is to find the right translator for the task. A certified translation is very important and should not be given to an inexperienced translator. Only a qualified translator should handle the task for you, if you want your application to be successful. You can ask your friends for suggestions about a translation service provider or ask for the internet's help. Once you find the right agency, let them know what you need the interpretation for, when do you need it, and which language combination you require. The more information you provide them with, the easier their job will become for them. And once you receive the translation, you can go ahead with the immigration process and attach the interpretation with the original document so the people at the office can understand everything that's written on it.