The advantages of getting certified translation by email. How does it work?
(Last Updated On: September 14, 2019)
Internet and the digital era have changed the world in many ways. A great change is the fact that USCIS accepts certified translation by email. Even more, any kind of business is now affected by these new tools and translation services are not an exception. Such tools as internet have brought benefits for both clients and service providers alike.
Certified translation by email is now possible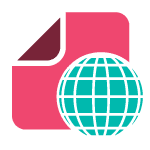 Hard copies are no longer needed with USCIS
When it comes to certified translations, nowadays it is possible to request and receive them by e-mail too. What distinguishes a certified translation from a non certified is a note with the statement that the translation was made by someone who is fluent in both languages and the translation is complete and accurate to the best of the translator ability. While in the past certified translation was required to be the original, now USCIS no longer requires that, only digital copies are fine. Therefore certified translation by email is now possible.
Companies create several strategies to attract new clients and the use of email for ordering translation is definitively an advantage. But, how does it really work? In order to standardize such services, service providers try to implement one process and explain it through their web sites.
Steps to order your translation
With little variations from one company to another, this process has the following steps:
Translation companies publish a list of several types of documents they translate in their web site and clients can choose among them. If the document is not listed, the provider offers the option to evaluate a particular document and determine if they can translate it and how much it costs. We are able to translate any kind of document, from any language.
The second step requires that the client sends a copy of the document in order to obtain a formal quote. This copy is sent by e-mail or a form on the website. We also offer you a certified and notarized translation tool which will allow you to get a quote simply by uploading your document and selecting what you need.
The client receives the quote, approves it and pay for it through the payment system offered by the provider.
The translation is completed.
The translation company sends a copy of the document to the client and after his or her approval, the final certified translation is sent to the client.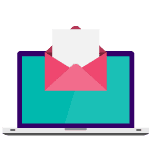 In these fast pacing times where the world is slowly grasping to the elite of technological advancement, we find ourselves surrounded by the global market. The translation industry is no exception; the beneficial use of technology has proliferated into the concepts of translation and has proven useful for both translation companies and clients.
Now, you can have your translation delivered to you by email. The certified translation by email is sent to you under the strict rules of guarded security and the respect of privacy policy. These translations are delivered rapidly and without any delay, which proves to be an advantage for our clients. The clients can access their email from anywhere and get themselves the translation requested within minutes. The payment for the documents is also made online aiding our clients in this modern era of industrialization surrounding us.
As you can see, it is quite easy to get certified translation by email. It is also faster than the traditional way, as you no longer need to go to the office to drop your documents, then return a day later to pick up the translation. Since USCIS accepts digital copies, all should be fine from this end.