How to get a certified translation
(Last Updated On: August 5, 2020)
When you want to get a certified translation, you should always hire a professional translation agency such as Certified Translation. Our professional translators have years of experience in the industry and are well-qualified to meet your needs. Additionally, our certification process features a two-step verification process that ensures precision. Plus, we can notarize your documents in-house, which means it's easy to get a rush-translation, even when certification is required.
Reputable translation agencies usually trust certified translations only to their most skilled and best-qualified translators. At Certified Translation, we also always have both an editor and a proofreader review the final translation before it is certified. This helps ensure accuracy and quality.
An officially certified translation of documents such as certificates, license documentation, agreements, etc. which for legitimate reasons must be correctly translated and accompanied by an approved statement from an authorized translation agency. Officially translated documents, which are certified are lawfully known and commonly trusted by government and other official bodies in the United States and abroad.
We provide certified translations for the following:
• Marriage certificate, divorce certificates, birth certificates, death certificates
• Academic degrees, diplomas, course certificates
• Custom documents
• Driver's licenses, citizenship cards, passports, ration cards, visa copies, residence permits
• Bank statements, tax receipts, TDS certificates, experience certificates, salary certificates
• Utility bills, (electricity bill, landline/mobile phone bill, Credit card bill, etc.)
• Land-related documents (registration, 7/12 extracts or RTC extracts)
• Wills, sale deeds, partnership deeds
• Prescriptions, medical reports
How to Get a Certified Translation for USCIS?
Here are the three main steps of the process:
1. Upload or email your documents. Scan your documents to PDF or any image format and send to the company!
2. Make the payment online. After we figure out the price, we will send you a quick quote and payment link by email. You can pay online.
3. Receive your certified translations by email.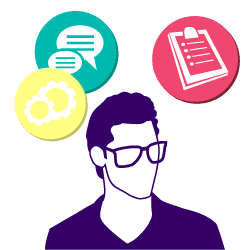 How Long Does It Take?
The time required to complete the process of translation and certification of your documents depends on several factors, such as word count or target language. But, in most cases, we can complete the entire process within just 24 hours. A one-page document can be translated, certified, and notarized within 24 hours, depending on the language and formatting requirements. In cases where complicated and larger documents are expected to be translated, a deadline will be acknowledged with you before we start working on the project. It is a professional translation agency, and after the translation is performed, we can, hence, give you with a certificate of authenticity, signed and issued on our letterhead paper, with a hard copy of the certified document and the translation.
The price depends on the length of the documents, the source language, and the amount of formatting needed. Each project has a custom price, but rest assured, our prices are extremely competitive – and you have the advantage of knowing that your translations are certified, notarized, and fully backed by a leading company at reasonable rates and we don't charge extra rates for rush translations.
We are a reputable language service provider preparing certified translations for USCIS. As we have comprehensive experience with certified translations, we can translate your documents accurately for the immigration bureau. We provide professional translation services for clients worldwide.