Home
→
Translation News
→
Language Translation
→
How does a notarized copy look like and a certified translation sample
05 Apr

How does a notarized copy look like and a certified translation sample

(Last Updated On: April 18, 2018)

We have been asked multiple times how does a notarized copy looks like and if we have a certified translation sample. You are wondering how to make sure that you have the right kind of notarized and certified copy.

Certified Translation has written this article in order to make sure that you know how a notarized and certified translation looks so that you know how to review the translation that you receive.
I want to see a certified translation sample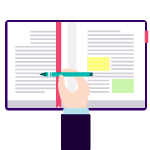 Do you have a certified translation sample?
Actually, we do have a certified translation sample that you can see on our birth certificate translation page.
One thing you should note is that all our certified translations are guaranteed to be accepted by the USCIS, or by any other institution in the United States.
How does a notarized copy look like
Following are the factors that you have to keep in mind while reviewing your notarized copy:
The Notarized copy will have a stamp that will say 'True Copy". The photocopy that has been notarized will also bear the same stamp along with signatures.
In case your state does not allow the above procedure, your notary will write the following statement on a blank page.
If your notary refuses to sign on the same paper as the photocopied document, as described, you can have a certification of copy prepared on a separate paper.
If the notary is unwilling to write any statements on his own photocopy of the certified translation sample , you can write a statement like "I declare this is a true, exact and unaltered photocopy of my passport" and sign below it in presence of the notary. And ask the notary to notarize your signature. If you face any difficulty with this, insist to the notary that he is simply notarizing your signature and not the contents.
Did the above procedure make you feel like the notary office is a challenge? And do you feel like maybe you are not up for it?! We are here to help you with a notarized translation too. We will get your translation notarized for you and make sure that your certified translation sample is ready for presentation to the office they are intended for.