How to find a translation company in New York City
(Last Updated On: September 15, 2019)
New York City or the Big Apple is the biggest and most diverse city in the world. That is why; the trick to getting the best translation company in New York City that you want is to know the translation industry that has developed in the city over the years. Certified Translation has written this blog post to help our clients understand the translators that operate in the Big Apple.
The best translation company in New York City?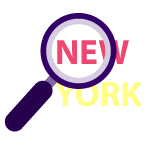 Why New York?
Every neighborhood in the region tells a wholly original story, and all you can do is enjoy your neighboring variety. The city has a broad and diverse industry when it comes to translation because the translation is an ever-increasing need of the city that is the headquarters for United Nations and houses an incredible diverse population.
We will discuss the translation options available to the clients in 3 categories so that you will know exactly how to see the system. These categories are of our own invent and do not have any official stance in the translation community.
The High-End Translation Agencies
These translation agencies are translating in collaboration with the United Nations and some of the top companies in the city. They are highly well credentialed with every translator having completed graduation and post graduation in translation and interpretation. Their rates will also reflect their services, and they are suitable for those individuals who have an apparent reason to want the best translation agency for their projects.
Those companies do not offer translation for USCIS.
The Certified Translation Agencies
This is the middle-class translation company in New York City for when the need for translation is hugely significant, but it has to be done on a small budget. These translators are well credentialed and accredited by the American Translators' Association, but they are not so glossy so they will not become too expensive; they are best for local small and medium businesses, middle-class individuals and other similar people.
The Independent Translators
Independent translators can be the very high end because you need a lot of proper training to be able to boast about being a professional translator. But the translator will also cost a lot of money because they cannot afford proprietary software for translation. It means that they will do their translations by hand and they will have to spend a lot of time on every project. That means that they will have to charge considerably high rates per word for every text that they provide. It becomes a considerable factor when one is working with the independent translator. Because they cost so much, you are better off using a translation company in New York City.
Scams
Scams are a massive part of translation industry in New York. You have to make sure that the translation agency is well credentialed and will live up to their promise otherwise, do not share your documents with them.
Certified Translation is a professional translation company in New York City which charges some of the lowest rates for high end translations.