What does a certified translation mean?
(Last Updated On: September 15, 2019)
Are you asking yourself:" What does a certified translation mean?" We can clear things out for you. When you look for certified translation services, you are at the right place if you have come to Certified Translations. Why? Because we are a certified translation company that you can trust!
What Does A Certified Translation Mean? Have A Look Into Our Services!
What does certified translation mean?
The translation process which is certified leads to the creation of a legally binding record that is recognized and accepted by government officials in the US. A properly translated document can make immigration process very easy for an immigrant.
If the translation is carried out by certified translation services providers, it will be acceptable to the various institutions in the United States, from academic institutions to courts and other US officials.
If you want to find out what a certified translation means, click the image on the right for a larger one, or download the infographic from here.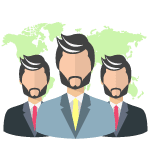 Main benefits of using Certified Translations are as follows:
Pay online
100+ languages
Fast delivery
Free quotes
$20 per page
Our turnaround time varies depending on the number of pages in the document:
All of our documents are delivered 24 hours onwards.
Except for the rush time that is under 24 hours.
We also deliver half pages, 3/5 pages and 6/10 pages under 24 hours.
For distant and far off special languages, our turnaround time is; 24h- 48h, 3 business days or 6-7 business days depending on the length of the order.
Confidentiality
Our translation company always makes it a point to adhere to data protocols, and safeguard all credentials and files handed over to us for translation. Before we start the translation, we always sign a non- disclosure agreement with our client. This way, we can guarantee complete confidentiality at every time, an encryption program, secure payment.
Why certified translations?
These kinds of companies guarantee the quality of their work and are responsible for all the results. They always look after the mistakes, if they ever occur. We offer you high quality with the best rates, rates that you will love. We do our best to provide convenient services for our clients.
USIS acceptance guaranteed
All of our translations come with guaranteed USCIS acceptance. We follow and obey the strict regulations imposed by the immigration office.
Know what you pay for: you can get a free quote for your translation in under a minute by using our certified translation tool. Our tool on the website enables you to use it freely.
Cities we provide services in include Boston, Washington, New York, Philadelphia, Baltimore, Detroit, Milwaukee, Chicago, Cincinnati, New Orleans, Providence, Brooklyn, Northern Dakota, South Dakota, Buffalo, Pittsburgh, Cleveland, St. Louis, Kansas City and the list can continue.
We provide translation service as well as English proofreading service!
Certificate translation services for all kinds of DOCS which are easy to access and at your disposal. You can always trust us, because we provide the following:
Certified translation services
Official document translation
Certified translation online
Notarized translation services
Lowest prices on the market
Fast turnaround time!
All of our translations come with guaranteed acceptance at USCIS or any other US institution.
Call Certified Translations now and get a quote!