How to Get Certified Document Translation from Spanish into English?
(Last Updated On: September 12, 2019)
Today, the Hispanic market is the fastest growing market in other parts of the world. In the US, almost half of the nation's population is Spanish-speaking individuals. Some of them are immigrants who surely need certified document translation services for their immigration case. Others have developed the biggest firms and businesses throughout the country and the world.
How can you get a certified document translation from Spanish into English?
When Spanish businesses expand
When these Spanish businesses and companies expand, a translation service is a must. You need to explain how your products and services work in the language of the country where you are expanding with considerations to the legalities for promotional value and establish your presence.
Thus, translation services from Spanish to English have become quite popular these days. With this, you might be wondering how a company or officer-in-charge can get a certified document translation from Spanish into English.
Translation Agencies and Independent Translators
You can acquire a certified document translation from Spanish into English through a translation agency or an independent translator.
What is a Translation Agency?
A translation agency is a company that employs certified translators who are experts in the chosen language translation services and in the legal conditions that come with it.
Due to the high demand in the translation industry, there are a lot of translation agencies that surfaced to fulfill the required translation services.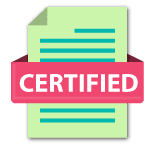 What is an Independent Translator?
An independent translator is an individual translator who works alone. They are usually freelance translators who don't belong to any company or group.
However, independent translators have a licensed or certification to do the translation job. You can see them on freelancing sites that promote freelance independent translators.
Certified translation services
Often, certified document translations are not simultaneously available from the same company, but we offer both services at the best rates.
We deal with all kinds of documents and we translate them no matter if the document is to be submitted at an educational institution, a report to be published in the office meetings, an official document to be handed out to the court, a medical translation for healthcare purposes or a legal document to be submitted to USCIS. No matter the kind of document that you are reaching out to us for, we can aid you in the best translation and certification services.
Certified document translation has never been easier to acquire. Now, you can just reach out to us on our website, get a free quote emailed to you and grant yourself access to the best customer service in the US having the capability of being recognized all over America.
We offer you the most affordable rates in the industry for certified document translation. The documents which are most commonly needed as certified are the birth certificate, marriage certificate, divorce certificate and death certificate. Along with these many other documents can be needed in certified translated forms.
It is very important to look for a translation agency which provides you the high quality certified translation. The immigration authorities and other higher authorities do not accept anything less than high quality at all. You can not play peril with your personal documents and it is suggested to look up to a trusted translation agency which guarantees you the best services with a quick turnaround time.
Regardless of what you are going to choose, make sure that you are dealing with a reputable translation agency or independent translator. Contact Certified Translation to get your documents translated at a fair price.