Where To Get English To Italian Certified Translation In New York
(Last Updated On: June 20, 2020)
Anything that holds religious value becomes important in the eyes of people instantly. There are many cultures that have deep roots in religion. Most communities live their daily lives according to their beliefs. If someone strays away from their religious values, they become a culprit in the eyes of society. Throughout history, may things have been associated with different religions. Wars and conquests were also carried out in the name of the religion, but most of them ended up being expansion plans. Today, the world is a lot different, but some things have not changed. For instance, Italian is considered an important vernacular because it is the official language of Vatican City.
The Italian Language History:
For centuries, Latin ruled the world of languages in Europe. Although it gained popularity because it was the vernacular of the Roman Empire, it remained relevant because every class of society adopted it. However, it did get divided into different versions. Vulgar Latin, which was spoken by the common people, ended up becoming the version that kept the language alive. It is Vulgar Latin that gave birth to Romance languages. Italian is considered the closest language to Vulgar Latin. It has more than 80 million speakers in the world.
Today, many people are studying Italian because of several reasons. Italy is one of the best places in the world for those who wish to acquire affordable higher education. Students learn the tongue so they can adjust easily in Italian society. The country is also a great place for small businesses. This is why a lot of foreigners apply for Italian immigration every year. They wish to live in a society where they can earn a living easily and get an education without having to lose all of their savings.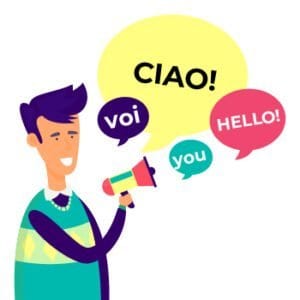 Where to Get English to Italian Certified Translation in New York?
People assume that anyone living in a first world country would be happy with their lives. However, not every country is as perfect as it appears to be. In some places, the competition is way too high and doesn't give room to small businesses. In others, the cost of living ends up higher than the minimum wage jobs. In any case, people from first world countries also immigrate to other places. Although many people would love to visit New York, living there is not affordable for most. In any case, if you are in New York and you are thinking of immigrating to Italy, you will need certified translation.
You will have multiple options to choose from. You could get in touch with a freelancer and ask them to assist you. Or you can hire a reliable and well-known agency to handle your personal documents. In the case of freelancers, you will have trouble finding reviews of their services. But agencies put the reviews on their websites. They are also available on Google so you can figure out whether or not a company is worth giving your money to. Once you have done your research and found a good agency, you can go ahead and get in touch with them.
You can get in touch in any number of ways. You can leave them a text to call you or call them yourself. You can also send an email with your document and request a quote. You can visit their office for an in-person discussion. However, it is better to use the online method as we are all living through a global pandemic. You can get in touch with a customer care representative through the live chat and explain your requirements to them. They will direct you to the 'get a free quote' page so you can upload your document. After uploading the document, answer all the questions on the page, and click the get quote page. This action will display a quote or bill you would have to pay if you order the agency's services. Give them the go-ahead if you are satisfied with the quote.
When you give them the green signal, the project will be transferred to an experienced professional. They will translate your document, review it, and then sign a statement to prove that their work is complete and accurate. A proofreader will go over the translation to make sure there aren't any mistakes. You would be given a chance to ask for a revision if you are not happy with the translation. But if everything is exactly how you wanted it to be, you can leave a review and accept the translation. Make sure that the agency you have hired provides you a signed statement of the linguistic expert along with the translation. Without the statement, the translation will not be accepted by the authorities.
Whether you are applying for immigration or university admission, you will have to get English to Italian certified translation. It will help you prove your identity to the authorities. You can also prove your qualification this way. However, instead of giving your money to inexperienced translators, spend some time doing research. Don't make a decision until you are absolutely sure about the work of an agency. You can also ask friends and family for suggestions. The internet can connect you with forums where immigrants and students share tips about finding the right service provider. Only trust a company if it has been positively reviewed by its previous clients.