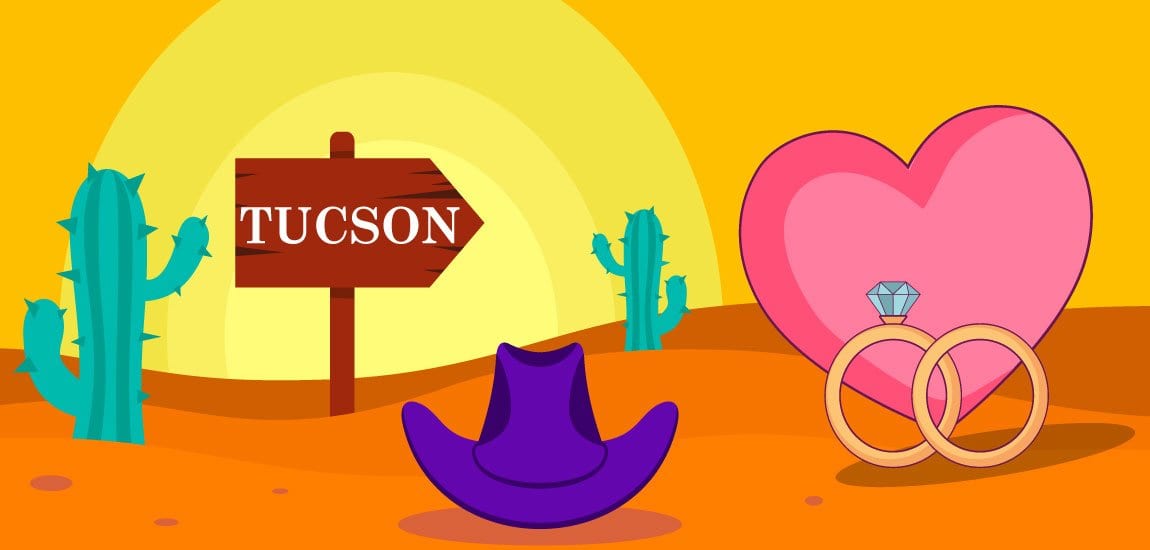 How To Get A Marriage License in Tucson
(Last Updated On: November 20, 2023)
Sometimes, people can spend their whole lives in a location without ever learning about its history. But in truth, regardless of where you live, each location has a unique history. You can learn a lot about the present-day culture and lifestyle of a place if you learn about the kind of past it had. As a country, the US has not had a long past. It is only a few centuries old. But the region has been around forever, and it was inhabited by people even before it was discovered by Christopher Columbus. The history of some modern-day cities is quite surprising.
Tucson:
It wasn't until 1853 that Tucson became a part of the US when the country bought land from Mexico. Today, it is one of the most successful cities in Arizona. It is the most populated city of the state after Phoenix. It is only sixty miles away from the Mexico border. It remained the capital of Arizona for ten years. But when Phoenix surpassed its population growth, it became the state's most vital city. Today, Tucson is known for its weather as it gets more sun than any other city in the US.
Due to its clear weather and less pollution, it is the best place in America for stargazing. The city has enacted rules about outside lights, which helps people see stars and planets in Tucson sky easily. It is due to these rules that the city has the least light pollution in the whole US. Another reason behind the lack of light pollution is the city's sign code. Due to the code, there aren't too many billboards in Tucson. The city is loved by bike enthusiasts because of the longest-running cycling event that is held each year the Saturday before Thanksgiving. Bike enthusiasts come from all over the country and raise millions for local charities.
Marriage License:
Everyone wants to preserve some moments for good. The best way to do that is through photography. We can record moments and view them later whenever we want to revisit them. But the government also needs to keep track of some of our activities. Yes, it doesn't need to know how your birthday party went, but it will want to know if you got married. This is why people have to get their marriages registered with the state and obtain their license. The license is proof of their relationship. Although they will not have to show it to every person they meet to prove that they are married, it will be necessary during official proceedings. For instance, if a couple is immigrating to another country, they will have to show their marriage certificate to prove their relationship.
How to Get a Marriage License in Tucson:
Every state and country has different rules regarding the issuance of official documents. People have to fulfill the state's requirements to get their marriage license. In Tucson, a couple that is going to get married must visit the Pima County Clerk of the Superior Court's office anytime between 8 AM to 9 PM. The office is open on all the weekdays. The couple must submit their application for the issuance of the license.
In order to request the license, the parties must be over 18 and have their identification documents with them. The parties will have to give their social security numbers if they have them. Then they will be sworn in and have to sign affidavits as proof that the personal information they have provided is correct. Once the license is issued by the Pima County Clerk, the couple can get married. A Justice of Peace or any authorized person will officiate the wedding and sign the license afterward. It is only after the signature of the officiator that the couple will be legally married. The fee for obtaining a license in most counties of Tucson is a little over $70. But people can get in touch with the county clerk's office to obtain more information about the fee.
Translation of the Marriage License:
If a couple is applying for immigration, they will need to get their marriage license translated. There are a lot of countries in the world where English isn't the official language, which is why people need to get their documents translated before they can be submitted to foreign officials. When official documents are in question, only certified translations are acceptable.
Regardless of the language you need your marriage license to be in; it must be a certified translation. It should be carried out by a highly qualified person and must come with a signed statement. The translator adds in the statement that their work is accurate. They not only sign their statement but also add their contact details. Whenever people have to submit their application to an immigration office, they must attach all of their personal documents along with their certified translation.
There are a lot of linguistic experts in the world, but you must make sure you have found the right one before handing over your document to them. You would not want to submit an inaccurate translation and get your application rejected. So, if you need a certified translation of your Tucson marriage license, make sure you have contacted the right agency. A good service provider can offer you linguistic solutions in all languages. Once you get the translation from them, you can submit your immigration application without any hesitation.