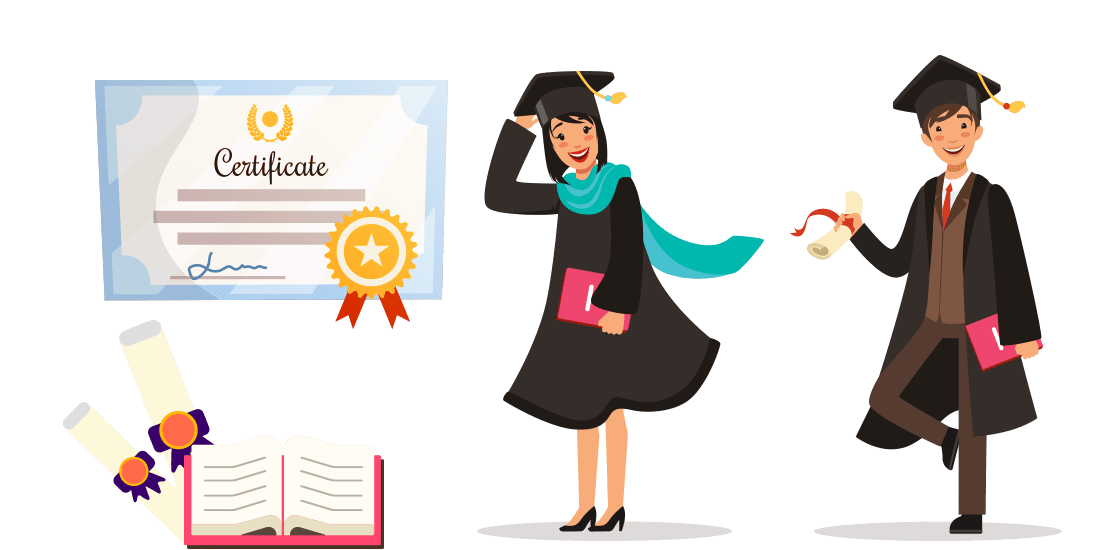 How to get a certified translation for your diploma
(Last Updated On: September 14, 2019)
How To Get Certified Translation Of Your Diploma?
The world of translation is vast. One translation is different from the other. This is due to the nature of the purpose for which you need to transform the text of one language into another. When it comes to diploma translation, the purpose behind is very specific. Also, it isn't merely putting meaning to the contents of the document. Most of the times, diplomas are required at the time of applying for a course or degree abroad. In some other instances, one might need to submit his diploma at the place where he is applying for a job. Or diplomas could be asked by the immigration as well. Regardless of where it is needed, it must be done in a systematic and elaborative approach.
Some Basic Rules
Just like every other official document, diplomas and academic transcripts too, have their own specification. Without keeping them under consideration, there is a chance of a possible error which is not an option for this type of task.
References And Websites
Some of the universities provide the equivalent of degrees on their websites. A person can either check for the equivalent themselves or can ask the company to do that for him. Moreover, it is always better to give a reference to the translator as it makes the work easier.
Qualification Equivalence
Every country has a different and distinctive type of education system. And the degrees and qualification also differ in various countries. The translation companies are mostly aware of these conditions and they can guide their clients in this regard as well. However, the practice includes three steps, 1) The translator carries out the translation 2) The client checks out the equivalence by asking the authorities 3) The end document is submitted with the alternate title suggested by the authorities.
Accuracy
Another important point that must be kept in mind while translating the diplomas is to keep the accuracy level highest. This means that the words should be changed into the words of the target language without adding any additional information into it. Diplomas must depict the information as it is, not as an explanation of the text or the contents.
What About Certification?
A diploma is proof of your academic experience, hence it is very crucial information. And for such crucial information, the translation must be certified. Whether it's an application to a university, a visa application at the USCIS or a letter to a company where you are looking to get employed in the US. All these require certified translation of your diploma. So there is no other way.
Now, we all know that certification is done through an additional certification of accuracy, which clearly defines the qualification and other details of the translator along with his statement that everything is in the correct order in the light of his professional knowledge. Here, another question that rattles your mind is finding the right kind of individual or services. As we have clearly mentioned above, the nature of this task is very significant and the translator must have experience dealing in academic documents.
Where Can I Get Certified Diploma Translations?
The Internet has become our best friend. We rely on it so much. We ask the wildest of questions and it never disappoints us. Well, looking for a diploma translation service online is not a bad idea after all. In fact, it allows you to choose from a variety of options. You can view the most trusted and highest ranking websites where you can get specialized services for your diplomas. But the real trick lies in picking the best. Some of the factors that you must consider include:
Pricing And Quality
Quality comes with a price but that price doesn't have to be astonishing. If you are looking for diploma translation services, you must opt for quality but you should never ignore the prices. Going with an affordable option is your right and you should always prefer doing that.
Testimonials
It's better to check out what people are saying about them. You can get a clear picture of who they actually are. This is the only way of analyzing the density of their claims. And testimonials are not the only ones that are on their website, they could also be on their social media or mobile app as well.
Contact Them
Contacting a company through the live chat option or call won't charge you anything. As a matter of fact, there are companies that have an instant quote tool which is absolutely free. This could also help you in comparing prices for your project.
Can We Help?
Sure, we can. We'd love to translate your diplomas at the most affordable prices. We'll deliver quality in the quickest time possible. With our kind of expertise, you wouldn't even have to look for another source. We have translated thousands of diplomas for our clients and they have always relied on our experience. If you or any of your friend or family member is looking for a diploma translation services that are reliable, affordable, quick and easy to access, then you can direct them towards us any moment and we'll be happy to take care of them.